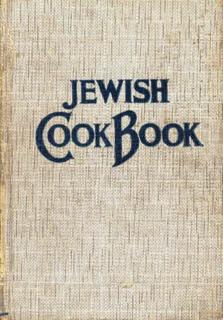 Offenbar gibt es ein Projekt namens "The Historic American Cookbook Project"; in dessen Rahmen wurde nun auch das "Jewish CookBook" von Florence Kreisler Greenbaum veröffentlicht (1600 Rezepte). Es liegt als pdf-Reproduktion, als html-Text, als XML-Text und in Form von Einzelbildern der Seiten vor:
It contains 1600 recipes "According to the Jewish Dietary Laws with the Rules for Kashering." It is thus a kosher cookbook, containing recipes from America, Austria, Germany, Russia, France, Roumania, Poland, Turkey and most other Western countries.

The chapter on Passover Dishes-Cakes, Puddings, Sauces, Wines, Etc. (20 pages) starts with instructions on how to set the table for a Passover Seder. There follow more common as well as a few unusual dishes: Yom-Tov Soup, Marrow Dumplings, Kentucky Chrimsel, Turkish Mamouras, Prune Blintzes, Strawberry Short Cake with Matzoh-Mehl and Pesach Cake with Walnuts.

The chapter entitled Mehlspeise (Flour Foods) includes Noodles, Dumplings, Puddings, Kaese Kraepfli (Cheese Kreplich), Geroestete Fervelchen Pfarvel (Egg Barley), Kugels, Schalets, and Strudels, including Quark Strudel (Dutch Cheese).

The large number of recipes include all of the traditional ones: Gefillte Fisch, Chicken Liver Paste, Chopped Herring, Chopped Onions and Chicken Fat, Borscht, Kischke, Pickled Meat-Homemade Corned Beef, Goose Grieben (Cracklings), Stuffed Goose Neck, Nahit, Marmelitta, Polenta, Mohn (Poppy Seed) Roley Poley and Cheese Blintzes.
And for dessert, one might try the Rye Bread Pudding, Burnt Almond Torte or Nut Honey Cake. The International Jewish Cookbook